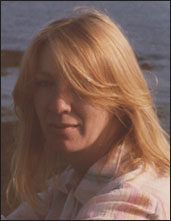 Artist Statement
"My sculpture consists almost entirely of curved areas that suggest natural growth as opposed to straight lines, angular or rectrngular forms; in essence organic abstract. It never occurs to me in the process, that I am taking from nature or otherwise. It is only when I feel comfortable about the shape the piece is taking that I begin to think about shadow, light, balance, etc."
Earla Porch Frank was born in Cambridge, Mass., and studied Fine Art at the California Art Center and Kansas University. Majoring in sculpture, she has produced many abstract bronze works. Her flowing, lyrical pieces have graced many galleries throughout the country, including the Boston Museum of Fine Arts, and the Harvard library in Cambridge Ma.
Since 1973, Earla has also been commissioned to execute a number of portrait sculptures of jazz legends. Her career as a sculptor is very tightly entwined with her life as a jazz vocalist. Earla has sung in jazz clubs since she was in her teens and has worked with many jazz greats, including Chet Baker and Duke Jordan. Some of these sculptures will be on display at the Down Beat Hall of Fame in Orlando, Florida.
Tom Alexios, special projects coordinator for the Down Beat Hall of Fame, brought Frank's busts to the attention of the museum. "We've collected a lot of items, but those busts are outstanding representations," Alexios was quoted as saying in the Kansas City Star article on Earla's jazz portrait sculptures.
---
Excerpt from an article written by Lyman Balmuth, writer for the Village Voice and Boston Globe
"... Although Earla is also a sculptor and painter who has exhibited her work extensively, drawing is, by her own admission, her first love. Ms. Frank captures the essence and form of her subject with a continuous and almost unbroken line. The eye of the sculptor provides the elements of shadow and mass without translating this vision to the page, and in this same manner, causes the viewer to develop the sculptor's eye the vibrant unbroken line seems to force the image from the page: the opposing edges of a form mold the space between more effectively than the most elaborate shading, the viewer interposes his or her version of the ideal form to translate Frank's drawings into a statement as personal to the viewer as to the artist, her line demands that the viewer participate.
"Earla works only from life, and like an oriental drawing master, takes the time and space which contain the expressive act and incorporates them into the finished piece. The line is so spontaneous that a large drawing may take only a few minutes to complete, but it is the hours of meditation and the study born of dozens of drawings that never survive the artist's discerning eye which breathe an almost unearthly life into those few expressive lines.
"Frank's drawings have a certain grace and tenderness that belongs to her alone, although an afficionado of the great drawing masters, she has amalgamated her study of those greats into a style wholly her own. Given to understatement, her work reveals a striking gift of observation and an amazing economy of line. Frank's work is a superb example of what may be accomplished with the most limited of graphic means."
---
Contact Information
e-mail: earlaporch@yahoo.com
Phone: (520) 625-1114
Please visit Earla's music website at:
http://www.earlaporch.com/