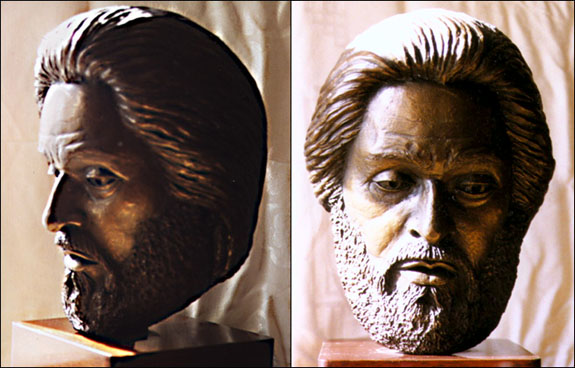 "Bill Evans"
"Throughout my life, Iíve always been connected to jazz. And jazz has had a profound influence on my approach to sculpture. One of my important influences is Bill Evans. To this day, I might spend hours listening to Billís recordings while sculpting. And since I also play piano and have a background in harmony and theory, I have a deep appreciation of Billís voicings. Back in 1978, I was working in a hotel across the street from Paulís Mall where Bill was playing for the weekend. When I had some free time I tried to get in to see him. There were people lining the entrance and the place was packed . I could hear him playing and see him through the blue haze of smoke. But I couldnít get in. Thatís as close as I ever got to seeing Bill in person .
"When he died in 1980, it seemed I had lost a great friend. He put so much of himself into the music, that in a way, I did know him well. I remember meeting Eddie Gomez after he died. We talked about Bill and he said that he was as close as you could get to perfection that was ever made of skin and bones. I understand that he was as great a human being as he was a pianist.
"Eventually, I decided to do a portrait of Bill for my own collection. Helen Keane sent me two excellent photos to work from and Mike Ning, a pianist from Kansas City, gave me a video tape of Bill which helped tremendously. I could freeze frame and get many different angles of his face. Mike also came out to the foundry and taped the casting process of the bronze portrait. This portrait will be on display at the Downbeat Jazz Hall of Fame in Orlando, Florida, and also at the Bill Evans Piano Academy in Paris, France.
"Bill was a very good subject because of his bone structure and interesting good looks. I am pleased with the outcome."
-- Earla Porch Frank
The bronze portrait is available in a limited edition. Also available in a limited edition of Durostone with bronze patina.
A quote from the Kansas City Star article on Earla's sculpture:
"The realism was what touched Nenette Evans, Bill Evans' widow. 'I couldn't believe the likeness,' she said in a telephone interview from her home in California. 'Bill would have been so flattered to see it. It's a real honor.'"